Demander son chemin en anglais : cela peut paraître facile, mais ça peut aussi ne pas être si évident que cela…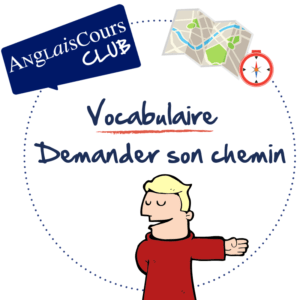 Dans ce cours, nous allons voir certains endroits où nous pourrons avoir besoin d'aller, comment demander son chemin, et quelques astuces pour comprendre les directions qu'on nous donne…
N'oublions pas que les limitations de vitesse et les grandes distances (par exemple, sur les panneaux des autoroutes ou des routes nationales) sont exprimées en miles et non pas en kilomètres, ce qui est valable au Royaume-Uni et aux Etats-Unis. Un mile équivaut à 1,609km donc 5 miles
Useful places – des lieux utiles
Bakery, baker's. Une boulangerie.
Beach. La plage.
Bus station / coach station. Une gare routière.
Bus stop. Un arrê t de bus.
Butcher, butcher's. Une boucherie.
 Cash machine (ou bien cashpoint ou ATM). Un distributeur.
Department store. Un grand magasin.
Library. Une bibliothèque.
Market. Un marché.
Museum. Un musée.
Pharmacy / chemist (USA drugstore). Une pharmacie.

A London underground sign

Post office. Un bureau de poste.
Shop (USA store). Magasin.
Stadium. Un stade.
Supermarket. Un supermarché.
Taxi rank. Une station de taxis.
Town hall / city hall. La mairie.
Tube station / underground station (USA subway station). Une station de métro.
Main roads – les principales routes
In the US – aux Etats-Unis :
Freeway. Une autoroute.
Highway. Une route nationale, un grand axe (routier).
Interstate. Une autoroute inter-Etats.
Tollway. Une route à péage.
In the UK – au Royaume-Uni :
Motorway. Une autoroute.
A road. Une route nationale.
B road. Une route départementale.
Bypass. Une rocade, un contournement.
Central reservation. Un terre-plein central.
Dual carriageway (USA divided highway). Une route à quatre voie.
Hard shoulder. La bande d'arrêt d'urgence.
Lane. Une voie.
Level crossing (USA railroad crossing). Un passage à niveau.
One-way street. Une rue à sens unique.
Pavement (USA sidewalk). Un trottoir.
Pedestrian crossing / zebra crossing. Un passage piétons.

Ring road.

Une rocade, une périphérique (autour d'une ville).
Road. Une rue, une route.
Street. Une rue (dans une ville).
Some example questions – quelques exemples de questions
Is there a cash machine near here? Y a-t-il un distributeur près d'ici ?
Where's the nearest chemist? Où se trouve la pharmacie la plus proche ?
Excuse me, how do I get to the station from here? Excusez moi, pour aller à la gare à partir d'ici ?
What's the best way to get to the airport? Quelle est la meilleure façon / le meilleur chemin pour aller à l'aéroport ?
How far is it from here to the closest cinema? A quelle distance se trouve le cinéma le plus proche ?
Is it far from here? C'est loin d'ici ?
Some common directions vocabulary – du vocabulaire courant concernant les directions
Behind. Derrière.

Where should I go?

Between. Entre.
Close to / near. Près de.
In front of. Devant.
Next to. A côté de.
On the corner of… and … . A l'angle de… et … .
Opposite (USA across from). En face de.
Crossroads. Un carrefour.
Exit. Une sortie.
Intersection. Une intersection.
Junction. Un carrefour, une sortie (d'autoroute).
Roundabout. Un rond-point.
T-junction. Un carrefour en T.
Traffic lights. Les feux tricolores.
Give way. Cédez le passage.
Stop sign. Un (panneau de) stop.
There's one in Oak Street (USA on Oak Street). Il y en a un sur Oak Street.
To cross. Traverser.

To go up

. Monter.
To go down. Descendre.
Giving directions vocabulary – du vocabulaire pour indiquer le chemin
Do a U-turn. Faites demi-tour.
Follow signs to… Suivez les panneaux / les indications en direction de…

Sign not in use!

Go past the bank. Passez devant la banque.
Go straight ahead / go straight on. Allez tout droit.
Take the motorway towards London and come off at jucntion 11 / at the Luton junction. Prenez l'autoroute vers Londres et prenez la sortie onze / la sortie de Luton.
Take the second road on your / the left. Prenez la 2e rue à gauche.
Take the third road on your / the right. Prenez la 3e rue à droite.
Turn back. Revenez sur vos pas.
Turn left. Tournez à gauche.
Turn right. Tournez à droite.
An example conversation – un exemple d'une conversation
Voici un exemple d'une conversation qu'on pourrait avoir en anglais pour demander son chemin…
A. Excuse me, do you know where the nearest cash machine is? 
B. Yes, there's one in Oak Street, next to the bakery.
A. What's the best way to get there?
B. Head down this road and take the 3rd right into Elm Street. Then take the 1st left, that'll be Oak Street. The cash machine will be on your right after about 100m.
A. Is that far from here?
B. No, only about a 5-minute walk.
A. Great, thank you very much.
B. You're welcome.
Et en français…
A. Excusez-moi, savez-vous où se trouve le distributeur le plus proche ?
B. Oui, il y en a un sur Oak Street, à côté de la boulangerie.
A. Quelle est la meilleure façon d'y aller ?
B. Descendez cette rue et prenez la 3e à droite, Elm Street. Prenez ensuite la 1ère à gauche, ce sera Oak Street. Le distributeur sera sur votre droite après environ 100m.
A. C'est loin d'ici ?
B. Non, ce n'est qu'à environ 5 minutes à pied.
A. Super, merci beaucoup.
B. Je vous en prie.